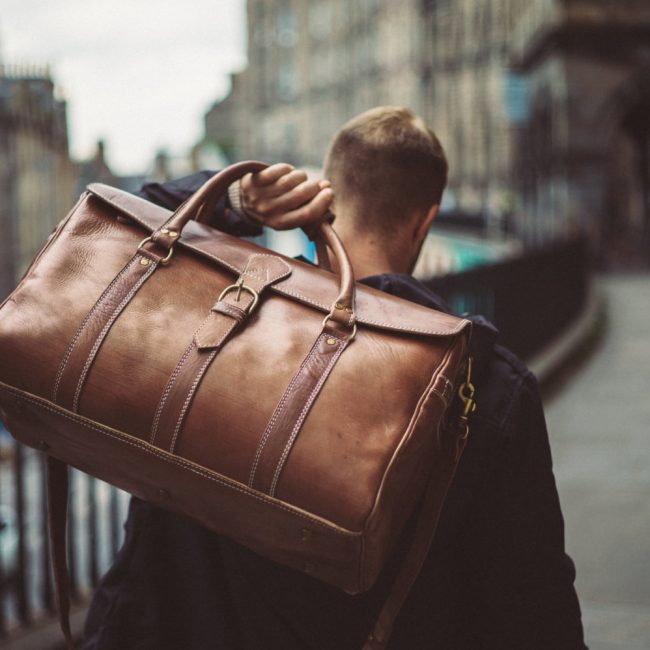 Leather duffle bags or a duffle kit is a large bag made of leather usually used by military personnel or sports personalities. It is also carried by people who work out in gyms.
Advantages of a leather duffle bag
Spacious– a duffle bag is very spacious. Due to its cylindrical shape it take less space and provides more space to carry our personal belongings. 
Flexible and durable– since it is made of leather it is bound to have durability and strength. Many of them are even water resistant if good leather is used. It can easily be fitted into any small area. 
Fashionable– due to the use of leather duffle bags, it never goes out of fashion. The leather makes the bag look more classy and appealing.
No maintenance– since a duffle bag is made of leather it requires less maintenance. It is made of a natural fabric and will not lose its appeal. It can be stored without any worry of fungi in wet environment and so the belongings of a person will be protected from wet and moist conditions. 
Disadvantages of a leather duffle bag
Lack of security– leather bags lack security. Unlike suitcases, there is no lock system in duffle bags. However one can use a lock and key on the zips to protect their belongings. 
Difficult to carry– if taken for shorter distances into consideration, duffle bags are good to go. However, if used for longer distances like trekking or hiking, duffle bags would be quite uncomfortable and tiresome to carry.
Organizing– organizing things in a duffle bags is quite difficult. It mostly comes with one spacious compartment. Therefore preventing things from shuffling may be difficult. People who like to keep their things organized can avoid buying a duffle bag and go for a suitcase. 
Thus, uses of duffle bags are quite sure understandable that they can only be used for small tours and trips.