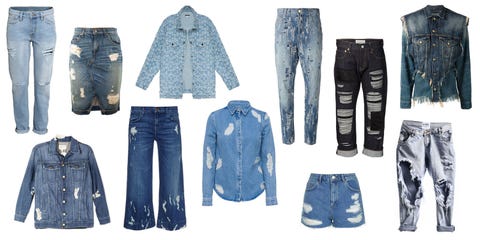 Denim, one of the most suited, favorite and loved fabrics of all time has been growing its name for so long in the market now.
The history of Denim:
Denim, the material is a cotton fabric that is strong and made using a twill weave. This helps to create a pattern that is ribbon-like. Denim, the word is itself derived from the city of Nîmes in Frances and previously was known as, Serge de Nîmes. Over the years, the name of Denim is English reference changed to "denim".
In the year 1853 when Levi Straus opened a shop in San Francisco to sell stuff such as buttons, threads and canvas for tents, that is when and where denim started developing from. In his shop, he later started selling pants for miners with big pockets to store coins. Later the concept was developed by Jacob Davis, who was Straus's customer and together they brought the ever so classic fashion into the world. The idea grew in the market so tremendously that the entire world is a big fan of denim even today.
Types of Denim:
There is a variety of denim fabric available in the market to suit and cater to everyone's taste and they are: 
Indigo Denim 
Stretch Denim
Crushed Denim
Acid-wash Denim
Raw Denim
Sanforized Denim
Styling Denim:
Do you know why Denim makes it to our top list when it comes to clothing and styling? Well, the answer is simple! You can pair up your denim piece with almost anything and everything. Starting from being the girl next door with a basic tee and jeans to teaming it up with a dress, a skirt or even a saree, Denim always and forever has helped in creating a style statement amidst the crowd.
Taking proper care of Denim:
However, if you own a piece of denim, it is very important to take proper care of it. It is advised to always follow the instructions provided to you at the back of your denim. Generally, you must always wash your denim with cold water on a medium to normal cycle. To dry it up, it should be given medium heat in the dryer. A tip that you can note down is always let your denim dry on their own by hanging them and wash only after several wears in order to increase its lifespan.